Flex your GF snacking using just one recipe! When you're on a GF or allergen-free diet, it pays to use one jumping off point for multiple meal/snack options. It's something I enjoy helping my clients with that can make life a little easier. These Ginger & Spice Carrot Bites can be adapted to what you're doing and where you're going.
Many whole foods-based GF treats need to be refrigerated after making, which is no problem if you're home, but what about if you happen to be on-the-go?
There are some certified GF snack bars out there with decent ingredients, but the majority are loaded with sugar, processed syrups, or other suspicious ingredients. These Ginger & Spice Carrot Bites taste like carrot cake and are delicious kept cold in the fridge or freezer, but they can also be BAKED for a perfect hiking/camping/road trip snack! GAMECHANGER.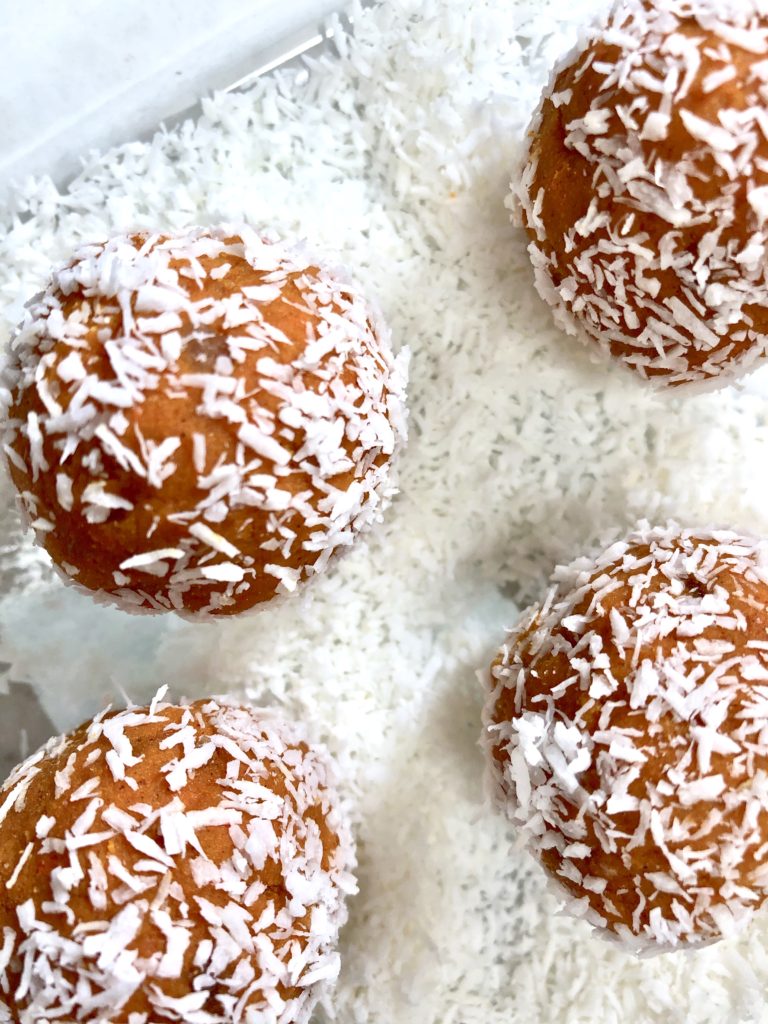 Ok now let's talk more about what makes these so tasty and wholesome. First, they are sweetened only with dates, which add fiber and a caramel-y flavor. There are only 5 deglet dates used here because the carrots lend so much natural sweetness. However, here's another way to flex the recipe based on your needs: If you are taking these on a backpacking/hiking trip or engage in a large amount of energy-intensive activity where you need to pack in a lot of fuel, feel free to increase the dates. I have made these with up to 12 dates before and they still work out quite well (just a lot sweeter in taste!).
Make sure not to skip the roasting carrots step as this is key to enhancing their sweetness and adding way more depth of flavor than using grated raw carrots!
I hope you enjoy these tasty bites as a new snack option. Let me know if you give them a try!
Print Recipe
Ginger & Spice Carrot Bites – Two Ways
Pin Recipe
Flex this snack for what you're doing and where you're going!
Ingredients
2

cups

carrots

cut in coins

coconut oil

for roasting

5

deglet dates*

pitted

3/4

cup

almond flour

1/4

cup + 2 tablespoons

coconut flour

2-3

tablespoons

crystallized ginger

tweak depending how much ginger you like

1

teaspoon

vanilla extract

1

teaspoon

ground cinnamon

1/4

teaspoon

ground cardamom

optional

1/8

teaspoon

sea salt

Shredded coconut

for rolling, if making fridge/freezer balls
Instructions
For Fridge/Freezer Bites
Preheat oven to 400 degrees F and line a baking sheet with parchment paper. Toss carrots with just enough coconut oil to coat them for roasting. Spread out on baking sheet and roast for 40-50 minutes, until soft when pierced with a fork and slightly golden.

Put roasted carrots, dates, and vanilla into a food processor and process until they start to form a dough-like consistency.

Add in the remaining ingredients, except shredded coconut, and process until the mixture starts to form a thick ball of dough.**

Using your hands, roll into balls slightly smaller than ping-pong balls, then roll in the shredded coconut, if desired.

Refrigerate for at least 3 hours before eating, or keep in the freezer for a treat to have on hand anytime
For On-the-Go Bites
Preheat oven to 350 degrees F and line a baking sheet with parchment paper. Follow steps 1-4 above, but do not rolls the balls in coconut.

Put balls on a parchment lined baking sheet and flatten with your fingers into a cookie shape.

Bake for 17-20 minutes. Let cool on the baking sheet before removing and eating.
Notes
*If you have an active lifestyle or are going hiking/backpacking and need more fuel, you can increase the dates up to 12.
**Add in a tablespoon or two of ground flaxseed for added fiber or ground hempseed for added healthy fat and protein.