It is very common for celiacs to have other food sensitivities, largely due to leaky gut, which exists before diagnosis and often even after. Recently, I've been seeing several clients with egg sensitivities (and have come to terms with my own issues around egg proteins), which has inspired me to create more egg-free recipes. I am PUMPED about this one because it's free of most allergens and gut-irritants: gluten (of course), eggs, refined sugar, and dairy. It's super high in fiber from the coconut flour and chickpea flour, and it includes winter squash, which are hands-down my favorite vegetables. May I add that they are delicious?
While I didn't have any at the time of making these, I highly recommend throwing in a handful of chopped dates, walnuts, or pecans to jazz these up. They are also tasty topped with nut butter and honey, ghee, or, if you can tolerate dairy, cream cheese. Enjoy these as a quick and healthy snack!
P.S. If you don't have chickpea flour, I've used quinoa flour and got great results, too!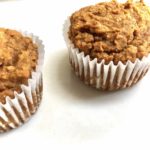 Print Recipe
Healthy Butternut Squash Muffins
Pin Recipe
Free of most allergens and refined sugar, while featuring high-fiber flours and butternut squash!
Ingredients
1

(15-oz) can

butternut squash puree

3

tablespoons

ground flax seeds

1

tablespoon

vanilla extract

1/4

cup

honey

1/4

cup

coconut oil

1

cup

chickpea (garbanzo bean) flour

1/4

cup

coconut flour

1 1/2

teaspoon

cinnamon

1/8

teaspoon

sea salt

Generous pinch

cardamom, ginger, and nutmeg

1

teaspoon

baking soda

Handful

chopped dates, walnuts, or pecans

optional
Instructions
Preheat oven to 350 degrees F and grease or line a muffin tin.

In a food processor, add all ingredients except baking soda and optional add-ins. Blend until everything is well combined. The batter will be thick!

Add in baking soda and pulse just until combined.

Transfer batter to a medium bowl and stir in optional dates or nuts, if using.

Using a 1/4 cup measuring cup, scoop into muffins tins.

Bake 30-32 minutes, or until toothpick poked in the middle comes out clean.

Let muffins cool in tin for about 5 minutes, then remove from tin and cool completely on a wire rack before eating.
Notes
To store: Keep in an airtight container and store in the fridge after a day.
These also freeze decently well and can be taken out and reheated.